Automatic cover
Published on 09 May 2014
An automatic safety system that covers the pool all year long.
What's The Fuss About?
The cover, powered by a motor, is made from opaque PVC panels that slide over the water's surface…
It exists in a submersed but also in an aboveground version (possibly with a bench).


This is certainly the best solution thanks to its esthetic qualities.




Protect your rollcover in the winter !


 Don't forget the Provolet net, especially designed to save you an extended cleaning of the rollcover at the end of the winter. Secured by water rolls around the pool, the Provolet will extend effectively the lifespan of the slats of your rollcover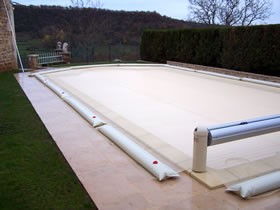 Related Products
More Maintenance Tips