Come and discover our covers, shutters and tarpaulins to help keep you swimming throughout the year.
A cover for your pool will reduce water evaporation and maintain the temperature of the pool. 
Our covers, shutters and tarpaulins are also designed to protect your pool from insects, leaves and anything else which could fall into your pool.
Covering your pool is essential. It will reduce the number of accidents and the risk of drowning.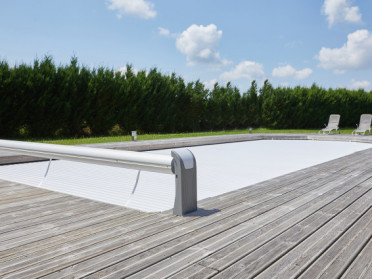 Cover Open Aero from Abriblue for Swimming Pools
The Open Aero swimming pool cover from Abriblue is now also controllable via your Smartphone. For pools from 2 x 2 up to 5 x 10 (+ 1.5 m radius stairs). Different slat colours available. It comes with a stand lighting with an infinite pallet of colours for ambient night-time lighting.
Whether they are flexible or hard, pool covers will enhance pool safety and protect the water in your pool. Installing a cover is a great way to care for your swimming pool.
Pool covers will secure your pool and prevent larger items from falling into the water.
Bubble pool covers, on the other hand, provide a layer of insulating bubbles which will help keep your pool water warm. They will also prevent evaporation, keep your water clean, reheat and maintain the water temperature, and reduce the consumption of water, heat and maintenance products. It is economical and environmentally friendly. You can also use it in the middle of the summer season.
Winter covers are installed before winter, when your pool is no longer in use, and is only removed at the beginning of the swimming season. It provides protection, comfort and safety. There are several different models available: waterproof, semi-waterproof and even a non-waterproof filtering cover.
Automatic pool shutters are the last word in pool covers, as they can be rolled out with no effort whatsoever. They are by far the most robust and reliable models on the market. These covers will guarantee total safety around your pool, protecting it from external contaminants, reducing the consumption of treatment products, preventing algae from developing, maintaining the right temperature and reducing water evaporation. What's more, it can be used all year round.
Whatever pool you have, you'll find the perfect cover for you!