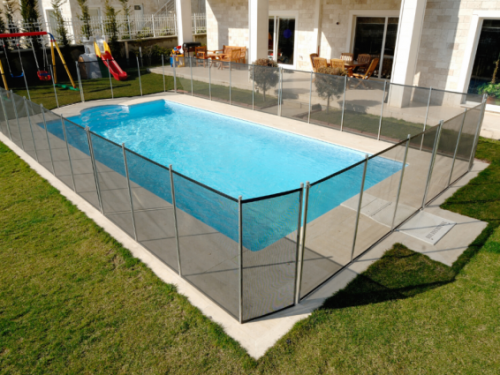 Pool Safety Equipment
Published on 14 May 2020
There are many products that can be added to your pool area to enhance pool safety. Whether you are protecting your young children, older adults or even your pets, keeping your backyard up to date with the latest safety features is of the utmost importance. Here are a few products that you may want to consider:
Pool Fences
Pool fences are one of the more common ways to ensure safety and are usually gate-locked and childproof. Many pool fences are designed for ease of use and restrict the occurrence of broken or sticking hinges and mechanisms. Alternatively, a temporary and removable pool fence can also be used to be set up only whenever children visit the household; though, a more permanent fence is recommended. 
Four-Sided Isolation Fences
A four-sided isolation fence is the best barrier as it completely surrounds the pool or spa. It is different from a property line or "perimeter" fence that keeps neighbors' children from accessing your pool. Isolation fencing separates swimming pools or spas from the house. They are specially designed so that children cannot easily get over, under, or through them. Code compliant pool fences can be built from many different materials, but some are better suited to the task than others. 
Fence Materials: 
Aluminum Fence

 

Steel

Fence

 

Wood Fence

 

Vinyl Fence

 

Composite Fence

 
Removable Pool Fencing
Removable Pool Fencing is a popular choice for many pool owners. This fence, made of mesh material, is left in place when there is a possibility of access to the swimming pool by young children but removed when adults are present or for parties. It can be rolled up and stored away during occasions when a barrier is not needed. This mesh fencing has a "transparent" nature allowing you to have a clear view of the pool at all times. The only drawback to having this type of fencing is that it does not meet compliance codes for backyard safety in all areas. A pool professional can provide information for your specific area. 
Pool Safety Nets
Pool safety nets provide a safe, secure barrier while maximizing the available backyard space and preserving the view and ambiance of the swimming pool area. The size of the net's squares are the foundation of its safety potential. The squares are small enough that children can't fall through but too big to walk or stand on. One adult can remove or replace a typical swimming pool net in just a few minutes.

As with all safety barriers, the net is only to be used as a deterrent and the child should never be left alone near the pool. 
Safety Pool Covers
One of the most crucial safety devices that a pool owner should have is a safety pool cover. Note that a winter pool cover and solar pool covers are NOT safety covers. Safety covers come in two varieties – mesh and solid. Both types of safety covers are anchored to a deck with straps that pull the cover taut over the pool; the straps usually attach to stainless steel springs and are anchored to recessed brackets in a deck surface. Because the straps need to be anchored down, mesh covers generally require at least two to three feet of decking all around the pool. There are a variety of deck anchors for all types of decking material including, but not limited to, concrete, brick, asphalt, earth, and wood. 
Mesh Safety Pool Covers
Mesh safety pool covers are designed for long-term use, such as when closing swimming pools for winter. Mesh safety pool covers require little maintenance because debris that lands on them blows off the top, and rain and snow drain through the mesh panels; however, with the screen-like material of mesh, some silt and dirt may get through the webbing. On the other hand, because puddles cannot accumulate on the surface, having a mesh-style safety pool cover eliminates the risk of toddlers or pets unexpectedly coming in contact with shallow water. 
So
lid Safety Pool Covers
Solid safety pool covers work similarly to mesh covers in that they can be secured to a deck by anchors. Solid safety pool covers may not be best for use in areas that receive heavy rain or snowfall. Unlike mesh covers that allow water to drain through the cover, precipitation can accumulate on a solid cover, creating a puddle of water over the pool. The collected water may tend to sag the cover and present a hazard to any small children or pets who, if unsupervised, wander onto to pool cover. To combat this problem, some manufacturers incorporate drain panels into solid vinyl covers. Small cover pumps that automatically pump water off the cover as soon as it is detected may also be used. 
Pool Alarms
There are many different types of pool alarms to consider depending on your budget, type of pool, and technical requirements. Remember that pool alarms are one tool that will help to make your swimming area safer. Parental guidance and vigilance are primary in ensuring pool safety. 
Gate Alarms
Gate alarms are mounted directly on your pool's gate with two magnetic switches. These alarms, which are battery powered, activate when the gate is opened and the electrical field is broken. There is an override button that can be pressed by an adult to allow them to pass through without sounding the alarm. Gate alarms are designed for outdoor use, come in many different sizes, are inexpensive, and easy to install. 
Perimeter Alarms
Perimeter alarms use laser or infrared light, forming an unbroken beam of light around the swimming pool's perimeter. When someone entering the perimeter breaks the beam, the alarm sounds. Alarm beams are positioned 30 to 60 centimeters above ground level and should be adjusted according to your child's height. These devices, which are the most expensive on the market, give total perimeter protection at a set height. Disadvantages are that the set height may not suit visiting children and that the alarm will activate if one of the pool's perimeter alarms is inadvertently hit, moved, or covered. 
Wrist Alarms
Wrist alarms are the latest in water safety. They may be used at the pool or even in a boat. These waterproof devices are key locked securely onto your child's wrist and communicate via a base station. When the wrist alarm is immersed in water the station alarm is activated. Base units and wrist alarms are purchased separately, which means you may have numerous wrist alarms for one base station. 
Floating/Wave Sensors
Floating/wave sensors are mounted on the edge of the pool or in the pool. They are key activated, battery powered, and portable. Generally, these alarms sense water displacement when an object weighing more than 6 kilograms enters the pool. When this occurs, a signal is sent to a remote receiver which is either in the home or carried by the adult. The receiver emits an alarm of approximately 85 decibels. These alarms can be used with pool covers or solar blankets and have an adjustment that can reduce their sensitivity. 
Pool Mounted Passive Infrared Motion D
etectors
Pool mounted passive infrared motion detectors combine all of the important features found in other devices and are very affordable. Each unit simultaneously detects both motion and heat of anyone passing by and will not give any false readings for inanimate objects. With a 110-decibel micro siren, this is also the loudest alarm on the market and can be heard 50 meters away. 
Above Ground Pool Alarms
Above Ground Pool Alarms use a new sensing method that requires no adjustments and is designed to detect intrusions similar to the weight of a 1 year-old child. The alarm is activated with an on/off key - simply remove the key to turn the alarm on. Entry into the pool by children, pets, or intruders is detected by the unit's electronic sensor and sets off a loud, pulsating alarm both at home and at the pool. Safe, simple, and easy to operate, the alarm snaps onto the top rail of your above ground pool. To store your alarm while using the pool, snap it on the outside of the pool. 
General Pool Safety Produc
ts
With the right swimming pool safety products, you can reduce the risks and dangers inherent to swimming pools and, at the same time, make your pool environment a more enjoyable place for everyone.

Swimming pool and hot tub handrails and stair rails pro

vide an extra protection against slipping on stairs and steps.

 

Pool signs and depth markers are also extremely important to have in the pool area. These pool depth markers can be applied to vinyl, ceramic tile, and tempered glass overlays. Signs that shoul

d be in your pool area can include "No Jumping", "No Diving, Shallow Water" and "Slippery When Wet".

 

You should also have basic safety equipment available such as a lifesaver ring

 
Related Products
More Maintenance Tips
Maintenance

Opening Your Pool: An Easy to Follow Guide

When spring is finally here and as the temperatures begin to climb, it's time to think about getting the pool area ready for the warm weather. Opening a pool is now easier than ever and with a few simple steps, you can be ready to enjoy your pool in no time!