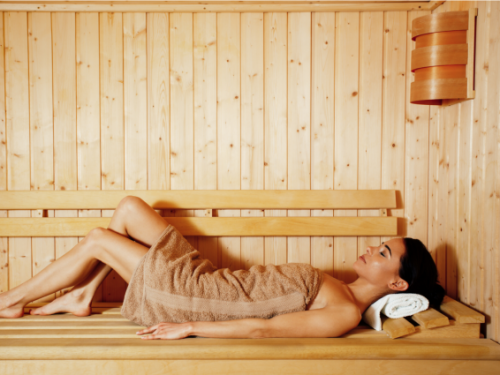 Traditional or Infrared, Sauna or Steam Room; What's the Difference?
Published on 18 December 2019
The difference between a sauna and a steam room can be summed up simply -- dry vs. wet.
Saunas provide dry heat, while steam rooms generate moist heat. Both can open up your pores, loosen up your muscles and help you relax. Which one is right for you? It's mostly a matter of personal preference.
Dry or Steamy?
The dry heat of a traditional sauna come from a heater that heats up rocks; and these rocks radiate heat into the room. In most saunas, you can pour water over the heated rocks to generate some steam and boost the humidity. However, this small addition of steam is a far stretch from the amount of stream produced in a steam room. Saunas are equipped with a vent, usually found near the floor by the heater. This vent is installed in order to circulate fresh air and limits the buildup of humidity. Some saunas use infrared light rather than radiant heat.
Inside a steam room, the steam generator boils water into steam and releases it into the air. Unlike a sauna, a steam room is practically airtight, so the humidity can build up to 100%. The air is so damp that water condenses on the walls.
Are Saunas Hotter?
Saunas run considerably hotter than steam rooms, although your body may not sense the difference due to the varying humidities. A typical sauna will be set between 70 and 95°C, with a humidity level of 5% to 30%. Steam rooms max out at about 40-50ºC, but the 100% humidity keeps your sweat from evaporating, making you feel much hotter. However, in both saunas and steam rooms, the higher up you sit, the hotter you'll get.
Take a Seat
Saunas are built of wood for a reason; metal benches or tiled walls inside the searing heat of a sauna would burn you. Additionally, wood absorbs moisture, which not only keeps the surfaces cooler but also aids to pull humidity out of the air. In steam rooms, however, the high humidity and constant condensation would cause wood to degrade fairly quickly. Steam rooms are surfaced with non-porous materials, such as tile, that can get wet without causing problems. Self-contained units, such as those for home use, are often plastic. 
Sit Back & Relax
Steam rooms and saunas share some therapeutic benefits. Both reduce muscle tension, promoting relaxation and general well-being. The heat helps improve circulation and, of course, promotes sweating, which opens up the pores and cleanses the skin. Steam rooms may be more comfortable for people with allergies or congestion in the chest or sinuses. Saunas are the better choice for people with conditions that can be aggravated by humidity, for example, rheumatoid arthritis.
The Traditional Sauna vs Infrared Sauna 
Traditional Saunas
Better breathing and respiration: Hot and moist air can unblock air passageways like the nose and throat. Therefore, you may find symptom relief for ailments such as: colds, sinusitis, and some allergies. 
Enhanced skin hydration: For people that have drier skin, the steam room may help alleviate these conditions. Air moisture and humidity helps loosen up pores. Steam rooms also promote natural oil production of the skin so that you will come out of the sauna looking fresh and radiant.
A deep sleep: After a session in the sauna, your body cooling down and the relaxing sensation of the heat will promote a good night's sleep.
Infrared Saunas
Detoxification: The infrared sauna provide enhanced detoxification when compared to a steam room. This action enhances blood flow and releases toxins via perspiration. 
Loss of weight and cellulite: Increased sweating in an infrared sauna results in a faster metabolism is also increased and the loss of water weight yields a slimmer figure.
Comfort and relaxation: Since infrared saunas emit less heat than steam rooms, people often find them more relaxing.
Making Your Decision
Both types of saunas have some excellent qualities and benefits. In the comfort of your own home, you will be able to relieve stress by relaxing the mind and the body. 
Ready to take action? Contact the sauna and spa professionals for advice on how to get started on your project!
Related Products
More Maintenance Tips