Acti Chemical Water Treatment Products
Discover Acti Chemical products: A water treatment solution for every problem!
Your Expert Partner in Water Treatment
The water of swimming pools or spas undergo constant wear and tear. The Acti Chemical range of products aim to avoid the proliferation of algae and bacteria, as well as calcareous deposits. Act now to make water comfortable for swimmers and bathers.
We offer you a wide choice of products to solve all the problems that you could encounter throughout the year:
Milky or cloudy water
Green water
Limestone deposits
Brown, reddish, black water
Translucent green water
Chlorine smell, skin & eye irritation
Difficulties in maintaining chlorine levels
The pH is too low
The pH is too high
Abnormally high pressure on the filter pressure gauge
Discover our 4 ranges of products that will allow you to have an optimal treatment of your water.
Acti Premium Water Treatment

Acti Liquid Chlorine 10/11%
Acti Liquid Chlorine 14/15%
Acti Pool Commercial: Sodium Bisulphate, Sodium (Bi)Carbonate, Calcium Chloride, Hydrochloric Acid
Acti Salt: 100% Salt Sack
Acti Multifunctional Chlorine Granules
Acti 5 Multifunctional Chlorine Tablets
Acti Floating Dispensers
Acti Bromine
Acti Clarifiers
Acti Specialty Products: Tile & Liner cleaner, Winterising fluid (with or without Copper), Stabiliser, Chorline/Bromine Reducer, Eucalyptus Milk

Acti Spa Water Treatment

Acti Spa Start Kits: Chlorine & Bromine
Acti Spa Sanitisers
Acti Spa Shock Treatment
Acti Spa Specialties: Surface cleaner, cartridge cleaner, claifier, anti foam, stain & scale inhibitor, bromaguard
Water analysis is often complicated and difficult to interpret. Download the free ACTI Soft software from the ACTI website and faclitate water analysis!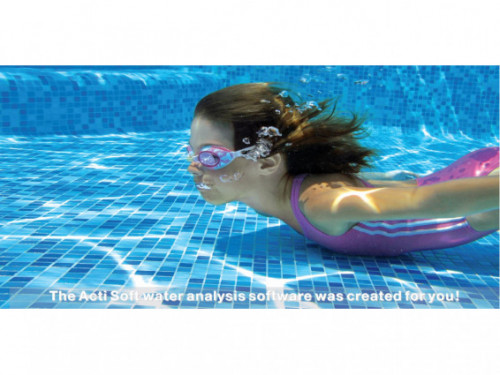 For more information on water treatment, visit www.acti-chemical.com !