Water Treatment & Chemical Products
The water of swimming pools or spas undergo constant wear and tear. Water treatment products aim to avoid the proliferation of algae and bacteria, as well as calcareous deposits. Act now to make water comfortable for swimmers and bathers.
Your Expert Partner in Water Treatment
Discover a wide selection of products to solve all the problems that you could encounter throughout the year:
Milky or cloudy water
Green water
Limestone deposits
Brown, reddish, black water
Translucent green water
Chlorine smell, skin & eye irritation
Difficulties in maintaining chlorine levels
The pH is too low
The pH is too high
Abnormally high pressure on the filter pressure gauge
Acti Premium Water Treatment

Acti Liquid Chlorine 10/11%
Acti Liquid Chlorine 14/15%
Acti Pool Commercial: Sodium Bisulphate, Sodium (Bi)Carbonate, Calcium Chloride, Hydrochloric Acid
Acti Salt: 100% Salt Sack
Acti Multifunctional Chlorine Granules
Acti 5 Multifunctional Chlorine Tablets
Acti Floating Dispensers
Acti Bromine
Acti Clarifiers
Acti Specialty Products: Tile & Liner cleaner, Winterising fluid (with or without Copper), Stabiliser, Chorline/Bromine Reducer, Eucalyptus Milk

Acti Spa Water Treatment

Acti Spa Start Kits: Chlorine & Bromine
Acti Spa Sanitisers
Acti Spa Shock Treatment
Acti Spa Specialties: Surface cleaner, cartridge cleaner, claifier, anti foam, stain & scale inhibitor, bromaguard

90 years of innovation in the pool water treatment 

The hth® complete range of pool and spa care products makes pool and spa maintenance quick and convenient. These solutions have helped generations of pool owners keep their water clean, clear and beautiful since 1928. hth® brand is among the leaders of water treatment solutions for public and private swimming pools as well as spas.

hth® is the 1st manufacturer of calcium hypochlorite and can offer the hth® powder, the most concentrated hypochlorite available on the market, hth® SHOCK® Powder. The range includes also isocyanurates as well as auxiliary treatment products like anti-algae, clarifiers…

Lo-Chlor

Lo-Chlor Maintenance Specialities - Simple solutions for everyday problems!

Range includes: Starver Phosphate Remover, Starver X, Multi Stain Remover, No More Metal, Spotaway, No More Scale, Algaecide, Black Spot Algaecide, Knock-Out Algaecide, Total Algaecide, Winteriser Algaecide, Maxi-Floc Plus, Miraclear Pool Clarifier, Ultra-Kleer Clarifier, Leak Sealer, Filter Cleaner & Degreaser, Salt Cell Cleaner, Hydra-Slip Lubricant, Liquid Pool Blanket, and more!

Clari One

Clari One is your "Go-To" water clarifier tablet for every pool.
Clari One works both as a problem solving and preventative maintenance water clarifier. Clari - One works to grab and trap the smaller, microscopic dirt particles that can pass through your filtration system preventing cloudy water. Use Clari - One routinely to keep your swimming pool crystal clear. 1 Tablet per 13,000 GALLONS.

Clari Clean

Clari Clean Like its little brother Clari One, Clari Clean
works both as a problem solving and preventative maintenance water
clarifier. Clari Clean prevents cloudy water and stops algae forming in
your swimming pool. 1 Tablet per 13,000 GALLONS.

Calc Tab

Calc Tab Is a sequesting agent designed to prevent calcium and
plaque deposits on the walls and bottom surface of your in-ground pool.
Theses deposits can make the pool surface feel rough and abrasive.
Calcium build up can also effect the performance of your filtration and
other equipment .When used regularly, Calc Tab will help prevent the abrasive feel from build up on the pool surface. 3 Tablets per 13,000 GALLONS.

Flocky

Flocky is a water clarifier tablet developed especially for the
smaller above ground pools with cartridge filters. Flocky helps create
a more efficient filtration system by capturing smaller particles that
cause cloudy water. You will see the results within the first 24 hours.
1 Tablet per 7,000 GALLONS.
Water analysis is often complicated and difficult to interpret. Download the free ACTI Soft software from the ACTI website and faclitate water analysis!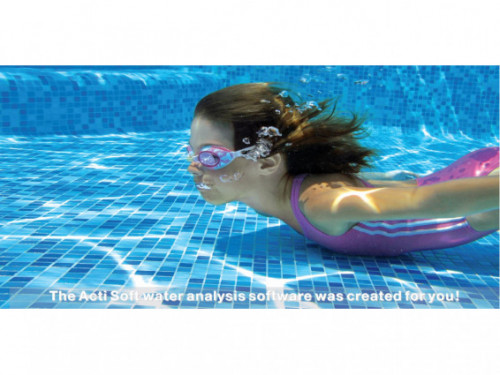 For more information on water treatment, visit www.acti-chemical.com !
More Maintenance Tips
Maintenance

Opening Your Pool: An Easy to Follow Guide

When spring is finally here and as the temperatures begin to climb, it's time to think about getting the pool area ready for the warm weather. Opening a pool is now easier than ever and with a few simple steps, you can be ready to enjoy your pool in no time!