PROFLEX® Swimming Pool Liners
PROFLEX® by Haogenplast: a high-quality, durable 100% watertight vinyl reinforced swimming pool liner
PROFLEX® Swimming Pool Liners
by Haogenplast is a high-quality, durable 100% watertight vynil reinforced swimming pool liner that delivered long term performance, with professional installation and excellent aesthetic properties.
Discover your liner: click here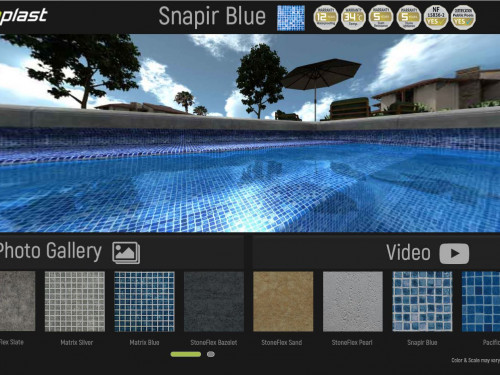 Flexibility PROFLEX®

Designed with in-built versatility, PROFLEX® swimming pool liner is the optimal solution when constructing new pools or renovating existing pools. The liner can be installed over almost any type of surface, and easily adapts to all pool shapes and configurations.
Durability PROFLEX®

The exceptionnal physical and chemical properties of PROFLEX® liners deliver a number of outstanding features, including high resistance to chemicals and UV radiation. This ensure that Proflex liners require only standard ongoing maintenance, which results in significant cost savings in the long term. This advantage makes PROFLEX® the preferred solution for refurbishment of old pools.
Aesthetic Harmony PROFLEX®

The advanced manufacturing and design of PROFLEX® pool liners results in a high quality combination of functionality and aesthetics, for an effective pool lining solution that blends harmoniously with the surroundings. In addition, PROFLEX® delivers enhanced protection against mechanical abrasion and wear, and superior performance in watertight sealing, for improved longevity and durability.
Quality Proflex

Developed and produced according to the specifications of standard (NF 5 54-803-2, EN 15836-2-2011), PROFLEX® meets strict standards of quality in a product that is easy to install in swimming pools of any shape, size or type.
10 Reasons to Choose PROFLEX® Pool Liners
Excellent Resistance to Microbial Growth
U.V Stability & Color-Fastness
Hot-Air Welding Strength
Excellent Abrasion Resistance
Resistance to Super-Chlorination
Superior Lacquered Liners
Superior Quality Assurance Processes
ElvaFlex - Premium solutions: Extreme Lifespan & Durability to Chemicals
StoneFlex Range – premium design, unique lacquering properties
New & improved designs - Next Generation (3D, enhanced acrylic coating, pearl & metallic)
StoneFlex Range: a premium range
Unique Stone-like design formulated with specialized enhanced surface coating, demonstrating: superior stain resistance & clean-ability properties for our deep 3D design, exceptional UV resistance & waterproofing properties, as well as dry non-slip grip.
A Next Generation pool liner design
Introducing the Next Generation of our Printed and lacquered range featuring:
Enhanced lacquer-coating properties increasing UV resistance as well as print/ color light fastness, 3D dry non plastic feel as well as deep, upgraded, profound & fresh designs.
Elvaflex - Pools Range
Designed for extreme resistance to enhanced U.V. conditions as well as unique chemical contact durability. ElvaFlex is the ultimate solution for complex water seal projects & public pools With proper care and maintenance, ElvaFlex will last practically the lifetime of the pool.
More Maintenance Tips
Construct

How Long Does it Take to Build a Pool?

Once you've decided to build a pool, your emotional clock begins ticking. All you can think about is relaxing in the cool blue water. Or you might find yourself dreaming about inviting friends and family over for pool parties or an outdoor dinner by the shimmering pool.

Construct

The Location of Your Pool: An Essential Choice

Before starting construction, it is essential to think about the installation of your pool with the help of a pool professional because it is difficult to undo such a choice. The planning stage before the project makes it possible to understand the location, terrain, exposure to wind and sun, and many other important factors.