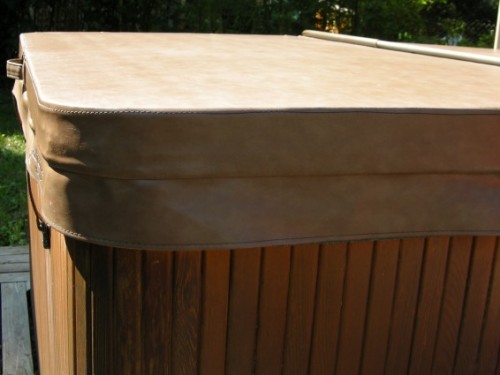 How to Make Your Spa Cover Look Like New?
Published on 16 September 2019
A quarter of an hour is enough to take care of it and give it a new lease of life! Discover our tips for your Spa coverage.
Why are spa covers important? 
Spa covers are crucial to the general upkeep of your spa. Maintain water, heat, and chemicals in their rightful place while protecting it from debris and prolong its lifespan by avoiding damage. Outdoor spa covers protect against natural debris such as branches, leaves, and insects, while indoor spa cover can be useful in preventing accumulation of dust or pet hair. An initial investment in a spa cover will save you money and time in the long run. 
Cleaning your Spa cover
The spa cover is subjected to extreme conditions: sun, rain, air pollution, cold, plants, mushrooms... It's always a good idea to prepare it for the cold and prevent damage or issues further down the road. Here are 3 very simple steps to follow when cleaning a spa cover:
Daily Maintenance 
For day-to-day maintenance, brush debris off the top exterior of your spa cover whenever needed. While rainwater shouldn't pose a problem, be sure to remove leaves, sticks, bugs, and snow. Quick tip: Use a broom or brush, but careful to avoid using a tool with sharp edges that could pierce the vinyl cover.
Bi-Monthly Maintenance
A deeper clean will prevent mold growth and other damaging consequences.
Remove the cover and lay it flat on a smooth, clean surface. 
Spray the cover with a vinyl cleaner. Following the product instructions, rinse the cover off with or hose or wet sponge. Don't forget the sides and bottom. If you use any other type of cleaner, avoid ones that contain alcohol, detergent, oil, and silicone.
Wipe down the bottom of the spa tub cover with a solution parts white vinegar or bleach (diluted 1:10 with water). Be aware that bleach may have a more corrosive effect on the vinyl than vinegar.
Apply Lo-Chlor Renovator and Vinyl Protector (do so when your cover is in the shade). This spray is recommended to use every 15 days. A thin transparent and glossy film will provide a protective barrier against UV rays, cracking and mold infiltration. Using a clean cloth, even out the product over the entire surface.
Quick tip: For a chemical-free and hassle-free cleaning, use Pool Gom! This magic eraser can be found at your local spa dealer. Without chemicals, simply soak a corner of the rubber slightly and rub your blanket. Before you know it, debris, fungi that will eventually come off.
And there you have it! Your spa cover should look as good as new.
Need more advice? Don't hesitate to contact our pool and spa professionals.   
Related Products
More Maintenance Tips
Construct

How to Choose the Location of Your Spa

In the rush of excitement after a spa purchase, it's important to remember it's not just what's inside the spa that will perfect your experience — it's also what's above, below and beside it. Be prepared to consider everything from weather to weight during your contractor's pre-installation visit.

Wellness

How to Drain and Fill Your Hot Tub

Whether you prefer an early-morning spa session to mentally prepare for a busy day, or a late-night soak in the warm, soothing waters to help you sleep better, there's one thing we can all agree on: No matter the time of day, when you step into your hot tub, the water needs to be sparkling clean in order to truly enjoy the experience.