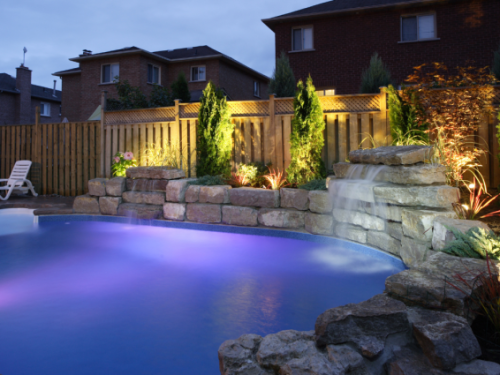 How can you make the most of your pool for longer with the arrival of autumn?  
Published on 26 June 2023
As autumn sets in, many pool owners see the end of the swimming season approaching...
As autumn sets in, many pool owners see the end of the swimming season approaching. However, it is entirely possible to enjoy your pool for longer thanks to a few simple measures. In this article, we'll share some practical tips for extending the swimming season and getting more enjoyment out of your pool even when the temperatures start to drop.  
  
  
  
1. Use a pool cover:  
  
Using a pool cover is essential for keeping the water warm and reducing evaporation. Choose a quality cover suited to your pool. Solar covers are particularly effective, as they capture the sun's heat during the day and retain it at night. As well as maintaining a pleasant water temperature, a pool cover also reduces the amount of debris that can fall into the water, making maintenance easier.  
  
  
  
2. Install a pool heater:  
  
If you really want to extend your swimming season, installing a pool heating system is a great solution. There are various heating options available, such as heat pumps and solar heaters. Choose the one that best suits your needs and budget. A pool heater will allow you to keep the water at a comfortable temperature, even when the outside temperatures start to drop.  
  
  
  
3. Create a warm, relaxing space:  
  
As well as making sure the water stays warm, consider creating a cosy relaxation area around your pool. Install outdoor heaters, braziers or fireplaces to create a warm and welcoming atmosphere. Add cushions and cosy blankets on the garden furniture to allow your guests to warm up while enjoying the view of the pool.  
  
  
  
4. Schedule your pool lighting:  
  
Autumn also means shorter days, but that doesn't mean you can't enjoy your pool after the sun goes down. Think about installing attractive pool lighting that will enhance the evening atmosphere. Coloured LED lights or underwater spotlights can create a magical atmosphere. Not only will this allow you to enjoy your pool more in the evening, it will also add an aesthetic touch to your outdoor space.  
  
  
  
In conclusion, by taking a few simple steps, you can extend the swimming season and maximise your enjoyment of your pool during the autumn. Finally, don't forget to maintain your pool regularly to keep the water clean and clear. By following these tips, you'll be able to enjoy your pool to the full and extend your swimming season even when autumn arrives.