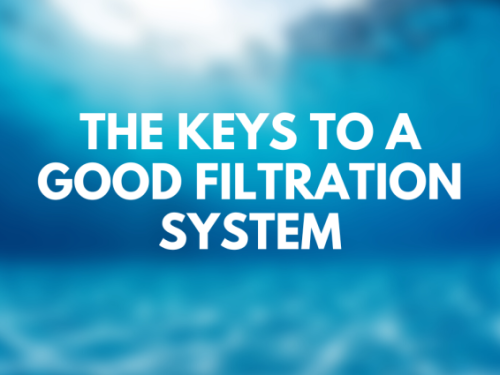 The keys to a good filtration system 
Published on 09 February 2023
The water in your pool must be disinfected and sanitized. Different types of treatment are used for this purpose, but they will only be effective if your filtration system is in place
The water in your pool must be disinfected and sanitized. Different types of treatment are used for this purpose, but they will only be effective if your filtration system is in place. It is estimated that 80% of pool water maintenance is carried out by filtration, despite what you might think. 

The filtration system allows the retention of particles in suspension in the water and, by stirring the water, prevents or limits the proliferation of algae. 

The selection of filtration equipment is therefore essential. 

The filtration system consists of 3 essential elements: 
The pump 
The filter 
The hydraulic system 
First of all, it is necessary to define the necessary filtration flow rate depending on the volume of water in the pool. This flow rate must be supported by the pump, the filter and the hydraulic system, otherwise a "bottleneck" will occur. The actual flow rate is the lowest flow rate. 

The first element, the filtration pump, enables the "large" impurities to be retained via a pre-filter and the water to circulate throughout the system. Ideally, it should be coupled with a programmer or even a variable speed pump.  

The second element is the filter. There are several types of filter. 
The sand filter 
With a good filtration quality (30 to 40/50 µ), it is easy to clean via a backwash. 
Its disadvantages: Connection to the sewage system and high water consumption during backwashing. 
Glass or Zeolite can also be used as a filter medium. 
The cartridge filter 
This is more expensive, but provides a high quality of filtration (20 µ) and consumes little water during cleaning, which is done by rinsing the cartridges with a water jet. 
Bag filtration 
The operating principle is similar to the cartridge filter. The bags can be either washable or disposable. The quality of filtration depends on the quality of the bag. 
Diatomaceous earth filter 
A very high quality of filtration.  
The last element concerns the hydraulic system composed of : 
Skimmer 
Hoses: The more elbows you have, the more flow loss you will have. 
Discharge nozzles 
All of this equipment is essential for the good circulation of water in the pool and for its quality. 
In conclusion, choosing a filtration system depends on the size of your pool, its use and your budget.