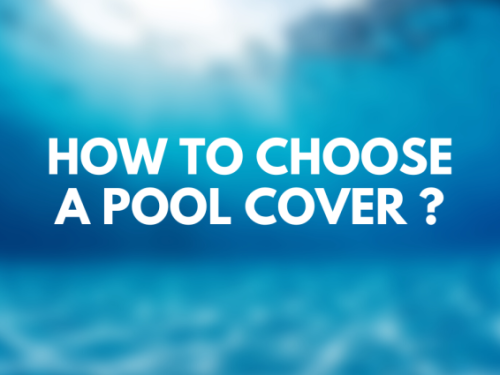 How to choose a pool cover ?
Published on 09 February 2023
To cover your pool, you can use several types of cover: the cover or the shutter.
To cover your pool, you can use several types of cover: the cover or the shutter. 
Whatever the shape of your pool, you will find covers for above ground, self-supporting, semi-submerged and in ground pools: 
Round 
Rectangular 
Oval 
Octagonal or hexagonal 
Made to measure 
The pool cover must perfectly cover the pool to be effective. 
There are several reasons for covering your pool: 
Safety reasons, provided that a safety cover complying with standard NF P 90-308 is used 
To put the pool into winter storage and simplify its reopening 
To keep the water clean and protect it from pollution and debris 
Keep the water warm 
Limit evaporation of the pool water 
There are several types of covers, each covering different needs and adaptable to all types of pools. 
Safety covers 
To prevent the risk of accidents it is recommended (or obligatory in some countries) to equip the pool with a safety device. Safety covers or bar covers that meet the NF P 90-308 standard are ideal. 
The advantages of the bar cover are that it can be used as a winter cover, it reduces the development of algae, it can be used all year round and is easy to handle. It is a "4 season" cover. 
However, they are more expensive to buy and take up more space. 

Winter covers 
There are 2 types of winter covers: 
Opaque PVC covers 
Net tarpaulins 
The winter cover is used at the end of the season to close the pool and protect the water from impurities (thus avoiding the need to drain your pool completely in areas not subject to frost) as well as the pool lining. 
It can also be a safety cover if it meets the NF standards mentioned above. 
Opaque PVC covers are often heavy and thick. Their installation can be tedious. The cover is attached by hooks and bungee cords to pegs fixed to the coping stones (or to the structure of above ground pools). They block photosynthesis and therefore the development of algae. However, they must be equipped with a water evacuation system so that rainwater does not remain on the surface. Its quality also depends on its thickness and the quality of the crimping of the hanging rings. 
Net covers are made of a strong mesh that protects the pool water from debris and impurities while allowing rainwater to pass through. As they are not waterproof, algae growth is potentially increased. They are lighter and easier to handle than opaque covers. They can also meet the NF P 90-308 standard. 

Summer or bubble covers 
The purpose of this type of cover is to limit heat loss when the pool is not in use but also to protect the water from insects and impurities making maintenance easier and more economical. 
In general, summer covers or bubble covers have two sides: one side with a bubble placed on the water acting as a thermal insulator and the second side protecting against the sun (anti-UV). 
 
For more information: www.swimmingpool.eu 
 
All of these covers can be coupled with rollers to facilitate their installation. There are several types of rollers: manual, electric, mobile, .....