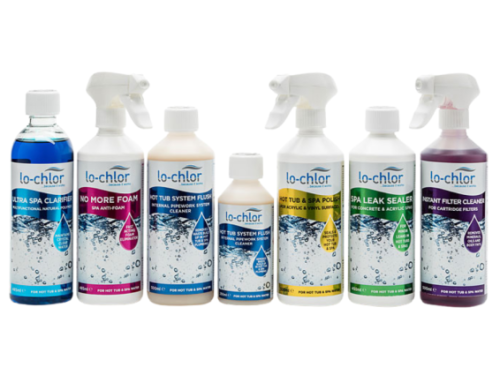 Our Lo-chlor products
Published on 28 June 2022
Lo Chlor, a range of chemical products for pool and spa maintenance.
Maintaining healthy, clear water is one of the challenges the pool owners have to overcome.  

Throughout the summer season, the water of a swimming pool undergoes constant wear and tear. 

Most of the stains, residues, greasy substances, result of a badly balanced water, can easily be eliminated thoughout prevention and maintenance actions. 

Therefore it is essential to preserve the quality of the installations and the comfort of the users, with an appropriate water treatment. 

To meet these needs, the Lo Chlor range has been deployed.  

Lo-Chlor products offer very specific actions and are complementary to the regular maintenance of your pool or spa. 
 
Made with active formulations, this range of products have a hight impact to adress the customer's demand.  
 
No More Metal, No More Scale, Spotaway, Concentrated Spa Cleaner, Salt Cell Cleaner, Multi Stain Remover, provide particle cleaning, pipe cleaning, phosphate removal, surface stain treatment 
 
Maxi-floc Plus, Miraclear Pool Clarifier, Ultra Kleer Clarifier, Miraclear Cubes are heavy duty flocculants that clear pools in 6-8 hours 
 
Ultra Spa Clarifier and Starver X bring a cleaning and filtration action 
  
Algaecide, Black Spot Algaecide, Knock-Out Algaecide, Total Algaecide, Winteriser Algaecide are proven in combating algae growth, stubborn algae forms, black spot algae 
 
Hot-Tub & Spa Polish, Vinyl Restorer and Protector, Hydra Slip Lubricant 
 provide waterproofing, moisture protection and anti-uv action for acrylic, vinyl and rubber surfaces 
 
Filter Cleaner and Degreaser, Instant Filter Cleaner contribute to descaling sand and cartridge swimming pool filters 
Liquid Pool Blanket helps reducing evaporation and heat loss to the atmosphere. This product is compatible with all pool chemicals 
No More Foam is a fast-acting antifoam eliminating unsightly foam in spas and hot tubs. It helps temporarily reducing the foam causing compounds's ability to produce foam 
No More Bugs is designed to remove insects and bugs that settle on the pool water surface 
Ultimate Spa MAINTENANCE KIT is a starter kit adapted to maintain a perfect Spa / Hot Tub 
Leak Sealer and Spa Leak Sealer provides anti-leak action in concrete, polyester surfaces, acrylic shells 
 
For an optimized maintenance experience and preserved equipment! 
 
Discover all the products in the Lo Chlor range for water treatment and maintenance of swimming pools and spas.